We know Boots inside and out!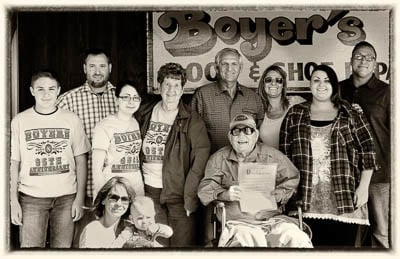 (Pictured are 4 of our 5 generations of Boyers BootNShoe boot and shoe cobblers.) 
Who We Are
Our great, great grandfather, Edd Boyer, started Boyer's Shoe Repair way back in 1920. So we've been in business over 100 years now! Our family business is made up of third, fourth and fifth generation shoe cobblers. That's why we have earned the right to say, "We know Boots, inside and out!" The only way to stay in business this long is to give excellent customer service that keeps folks coming back. 
We stock a wide variety of merchandise in our store. Only a small percentage is shown here on our web site. We carry a huge assortment of Western Boots and Western Wear, Shirts, Hats, Jeans, Belts, Leather Goods, Jewelry and more. We specialize in work footwear and even have a mobile Safety Truck, we call it the Boot Wagon. We sell work footwear on location at local manufacturing sites. 
We still carry on the shoe repair tradition started by Edd Boyer in 1920. Our large Repair Department does expert repairs on Boots and Shoes. We also repair Purses, Belts, Ball Gloves, Hats, Book Bags and replace zippers in Jackets, Coats and Jeans. But we will repair just about anything people can get in the door from Jeep Tops to Inflatable Bounce Houses. We seen some crazy items to repair through the years, but we are always up for the challenge 
Our Store is widely known for our lovable cowboy character, Slim. Slim has appeared in our TV advertising for over 25 years. Slim wears an extremely long handlebar mustache and gets himself into a lot of mischief. 
You can find our store in the beautiful, little, Mississippi River town, Quincy, IL. Quincy is just 20 miles upriver from the Mark Twain hometown of Hannibal, MO. Please come visit our store any time you are in the area. Who knows maybe you'll even bump in to Slim. 
Our Pledge
All of us here at Boyer's BootNShoe want your experience with us to be a pleasant and happy one. We pledge to provide only the highest quality merchandise and deliver excellent customer satisfaction.