Is there anything you can do if your boots are rubbing your ankles raw? Here are a few professional tips and DIY solutions
How Can I Soften The Ankles Of My Boots?
Question for The Boot Guy: I bought my wife some boots last year while I was in Texas. She absolutely loves the boots, but cannot wear them because the sides of the boots near the ankles collapse in on her legs causing great pain. Is there a way to reinforce the ankle area? I have tried moleskin as an experiment but it did not work. Any suggestions?
Good question and I have some answers.
Question. First, are the boots tight on her calves? I ask because if the top of the boot is too tight it can force the boot to buckle in at the ankle. The solution in that case is to stretch the tops of the boots. This will make the boots not rub any more. Since you tried using a moleskin padding and that did not help any, it gave me the idea that the tops may be too tight.


If that is not the case then here is another idea to try.

Flex the Seams. We have a special machine that is made to roll down the side seams. It helps "break in" the boot by rolling and working the leather to soften it.
DIY - What you can do yourself

Wearing heavier boot socks can also help protect your ankles. Boot socks are thicker and can cushion the area better.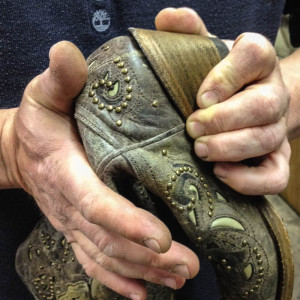 Need to fix another problem area? (link to pre-break in landing page) 

Slim, The Boot Guy